BlinkM Project Gallery
WII NUNCHUCK CONTROL
Ben Bleything uses the Wii nunchuck's rotating joystick to control the color of a BlinkM.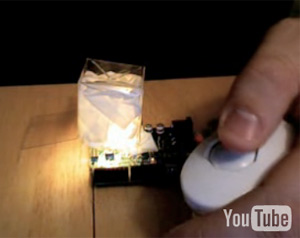 He uses DarwiinOSC connected and Processing to control an Arduino talking to a BlinkM. Bleything provides a full description and source code on his site.
HEARTBEAT LIGHT
Lady Ada (Limor Fried) made a simple heartbeat light badge, appropriate for Valentine's Day or as a quick prototype of a medical or safety device.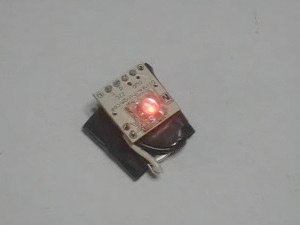 Fried provides an extensive description on her site.
TEMPERATURE SENSOR
Lady Ada (Limor Fried) uses a BlinkM as a simple temperature indictor.
Fried provides an extensive description on her site.
POLITICAL POSTER
James Home backlit parts of a Shepard Fairey (of Obey Giant fame) Barak Obama poster to draw attention to it on a crowded urban sidewalk.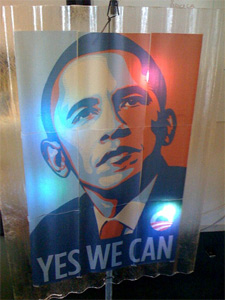 BoingBoing covered it and linked to Dan Ancona's pictures.
KOMBOLOI: A DIGITAL WORRY BEAD
Julian Bleecker connected two BlinkMs to a small board with a capacitance sensor in a beautiful translucent package to create a dynamic digital worry bead.
Bleeker describes it in detail on his site.
A WEATHER PREDICTOR
Scott Reston created an ambient weather predictor much like the Ambient Orb's weather mode using two BlinkMs, an Arduino, and PHP code that grabs today's weather from Yahoo.
On his site Reston provides a the PHP weather fetching codeand more detail on the project.
LED MOOD LAMP
Nathan Johnston used an old IKEA lamp to create a basic ambient information platform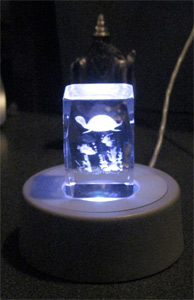 Johnston has a fuller description and video on his site.
If you have any questions or problems
please contact us at blinkm@thingm.com.